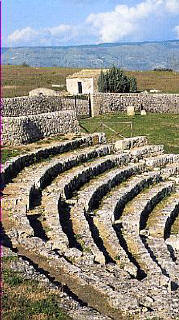 Palazzolo Acreide appeared in Norman times on the site of the Greek Akrai, founded by the Syracusans in 664 BC and its main attraction lies in the remains of the ancient city. Beyond the small entrance gate, the archaeological site conserves the remains of a Greek theatre dating from the 3rd century BC and altered in Roman times.
Adjacent to the theatre is the bouleuterion, used for senate meetings; to the south are the Intagliata and Intagliatelta quarries, used for the extraction of stone and later converted to necropolises and dwellings in Christian-Byzantine times. Also in the vicinity are the few remains of the temple of Aphrodite, dating from the 6th century BC.
Ask the guardians of the excavations how to reach the zone of the Santoni - twelve rock sculptures dating from the 3rd century BC and dedicated to the goddess Cybele; they constitute the most important figurative complex pertaining to the cult of what the Romans called Magna Mater.
The city lies to the northeast of the archaeological site and is marked by a predominance of baroque lines and forms. It owes its architectural imprint to the reconstruction implemented in the 18th century, after most of it had been destroyed by the 1693 earthquake.
Two of the main religious buildings stand on Piazza Moro, the Mother Church and that of San Paolo, but also worthy of note are the House-Museum of the ethologist Antonino Uccello and the church of San Sebastiano, rebuilt in the first twenty years of the 18th century.